Main Page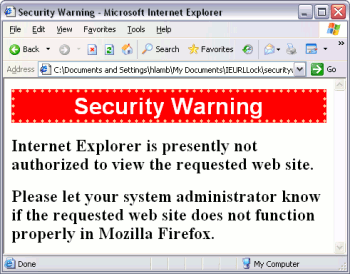 The IE URL Lock Browser Helper Object prevents users from navigating to web sites in Internet Explorer and Windows Explorer while permitting URLs that match a Perl-compatible regular expression stored in a registry list.
This browser helper object helps computer administrators enforce Internet Explorer usage policies through the group policy editor that ships with Windows 2000 and above.
IE URL Lock scales from single home computers running Windows XP to geographically disperse networks running Microsoft's Active Directory system. As an example, you can use it to prevent your parents from mistakenly using Internet Explorer on their home computer. You can also restrict web browsing activity in your Active Directory network to only the work-related sites that each user needs for their duties, which can be specified either for each user or based on group memberships. Other possibilities exist, too.
If you find this software to be useful to you, please feel free to let me know at urlllock-questions-inbox@moonlightdesign.org. I love to hear from people who use my software and can also help answer any questions or problems that you have with it. Thanks!