AriesType
Jump to navigation
Jump to search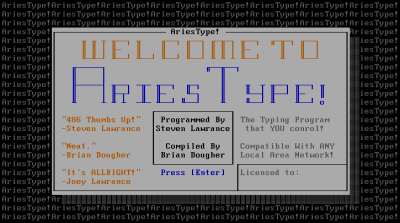 AriesType was a touch typing education program that I made while I was a freshman in high school. It tied into the local Novell NetWare network to be a multi-user application with different capabilities given to students, teachers, and system operators. AriesType also included basic local email and paging capabilities. At the time, I had penned some of my software as Aries Software or a variant, though Aries Software was simply an unregistered alter-ego of me.
I wrote AriesType in lieu of taking an introductory computer class in high school, and the work primarily occurred during class hours in the same classroom at that class. My past experience at the time with computers and software enabled that position. This project was my first network-enabled multi-user application and was worthwhile for learning about related concerns.
AriesType was completed as a working product, though its real-time student typing playback feature was never finished. The typing playback feature would have simulated what the screen looked like for a selected student's typing session, including delays and mistakes, though this likely would not have given much value to teachers. This and the email and paging features are classic examples of gold plating that less-experienced software engineers suffer from.
Download
Screenshots
Typing
Students touch type sentences into AriesType while the system logs the character and timing of each keystroke for later playback.
Sentence Editor
Teachers can edit and choose the set of sentences that students type.
Menus
AriesType displayed a different menu to students, teachers, and system operators.
Email
AriesType supported a limited form of local-only email. Users could not communicate with people outside of a network's AriesType installation using this system.