KittyCat! Comm
Jump to navigation
Jump to search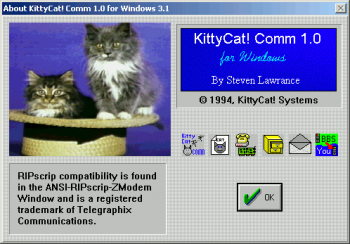 KittyCat! Comm was a bulletin board system (BBS) communication program for Windows 3.1 with ambitious plans. The vision was to support traditional text-based BBS systems and RIPscrip graphics along with arbitrary data exchange between remote programs and BBS-driven SLOS scripting. This project was abandoned shortly after I started using the Internet and TCP/IP; they made KittyCat! Comm obsolete.
The implementation supports multiple telephone numbers per BBS, inter-program communication using the dynamic data exchange (DDE) mechanism in Windows, ANSI text and RIPscrip graphics rendering in its console, and a partially-implemented MeowModem file transfer program. Almost every part of the system has cat-themed names, such as its KittyDDE application programming interface (API).
Download
Download CatSetup's required DLL files, if needed. Older versions of CatSetup required bwcc.dll, and the latest version requires ctl3dv2.dll. These go into the windows\system folder, not windows\system32. Windows computers typically already have ctl3dv2.dll installed, which is a Microsoft library, and Wine has a built-in implementation
Dialing Directory
The dialing directory was implemented using minimized multiple document interface (MDI) windows, which appear as icons with a title underneath on Windows 3.1. This was meant to make BBSes appear as programs as they did in the Windows Program Manager. In Windows 95 and later versions, minimized MDI windows appear as small title bars with control icons, making the dialing directory's user interface appear drastically different.
Terminal Console
The terminal console appears after a successful connection to a BBS is made. It can also be launched while KittyCat! Comm is not running, which puts the console into local-echo mode. Support for ANSI and partial support for RIPscrip exists in the implementation, though Zmodem file transfer support was never finished. Some of the console code was reused in ScreenWindow.